Since its launch in 2010, Instagram has taken the world by storm. It seems like everyone — and their dog — is on the (marketing) platform.
You may ask yourself if Instagram is worth spending the time to market your business. The quick and simple answer is yes! For me, it is the best social media marketing platform I have ever used.
Here are the reasons why:
These are massive benefits you can't ignore. It is more than important. In fact, every business you buy products or services from…
Chances are that they are on Instagram. And that is not an accident. Instagram marketing brings in massive results. MASSIVE RESULTS.
Instagram users are engaged, hyped, and ready to buy. But you must be able to market your products or services to them in the right way.
And 80% of the time, you don't want to market them at all. Only 20% of all the content you will create will be promotional.
Why?
Social media is like a party. You want to be the nicest, funniest, most helpful guy at the party. You don't want to be a pushy salesman nobody wants to talk to.
Social media is just another way of content marketing…and that is what you want to provide to your followers.
CONTENT.
But growing on Instagram requires certain skills, knowledge, and techniques you need to apply.
Otherwise, you will end up with 24 followers, sitting on the sidelines, being worthless.
In this guide to Instagram marketing, you will discover everything you ever need to be the best on Instagram. And after some time…your sales will go through the roof.
Here is what you are going to discover:
I highly recommend taking notes when reading this marketing article. This is the only article you will ever need, and writing things down can be extremely helpful.
Got something to write? Alright, let's dive in…
How To Optimize Your Instagram Account For Maximum CVR (Conversion Rate)
Alright, your profile is the ultimate foundation…the foundation of your Instagram conquering force.
This is the place where you convert the people into followers and traffic that you drive to your website.
That means, your Instagram profile must be perfectly optimized so that you can convert more people into followers and traffic.
Let's take a closer look at how to do it.
You see, if your CVR is low, you can be missing hundreds of followers per day. If your profile is optimized on the maximum level, you can easily triple your growth.
The first thing you need to optimize is your headline.
The headline should tell the reader who you are, and it should tie with the bio. In the bio, you will go a little bit more into depth.
It must be clear, simple, and it should give clarity to the user. If you want to create the headline easily, just tell them the niche you are in.
Marketing Harry's headline is "Brave Social Media Marketing". It makes it clear who he is and why you should read more in the bio.
You read that headline and if you are interested in marketing…you just read more in the bio.
Or the Instagram user may decide to follow you right away after they read the headline. It can be extremely helpful.
The next thing you want to check is your bio. Bio is absolutely essential cause it means the difference between whether they will follow or if you convert them into traffic.
The first two or three sentences should concisely tell them why they should follow you, what are they going to gain by following you (the promise), and the CTA that will make them want to click the link in your bio that will redirect them to your desired landing page.
Here is what a great bio should look like:
Also, you can use emojis to give them a little bit of visual experience of the things you talk about.
The last thing that your user will see on your profile is the feed. To be honest, I never paid attention to this…but I have discovered this concept so I am going to talk about it.
Of course, the reader may click on some of the posts to discover more, and you want to make them feel absolutely astonished.
But I'm going to talk about the content later. Here I'm talking about the impactful layout of your feed.
Beautiful feeds get more attention and make more people follow you. There are three feed layouts I like the most.
So here we go. The first feed layout is called panorama.
This is an interesting Instagram feed layout. I see many IG profiles using it and it makes an impact.
The next layout is called chessboard. I believe you know it because almost everybody who pays some attention to feed layouts is using it. Here is how you create it…
The last feed layout that I like the most is the chaos layout. Yup, you hear it right. It is a chaotic layout.
Why do I like it? Ok, the impression is important…but it's not so important that it should limit you on what you are posting.
I believe everybody can imagine the chaos layout, so I'm not going to put it there. Once you have these necessary elements solved, you have to do one last thing.
And that is to change your account into a business account. That way you will get access to valuable analytics that you will need for future improvements.
How can you do that? Well…
First, you will go to the settings:
Then you will go to the account settings:
And then just click on the switch to the business account button:
That way you will get access to many great features you can use for your business but most importantly, you will be able to track data.
It takes some time before you will be able to see that data, but for Instagram marketing, it is absolutely crucial.
So, is your account ready? Fine, let's go into the most important aspect of the whole Instagram marketing…CONTENT.
Creating A Raving Content
Now that you've created and optimized your Instagram account, it's time to start posting awesome content. Instagram allows you to post several types of content, including photos, videos, and Stories.
First, let's talk about the posts…
Instagram Posts
There are many things you need to pay attention to when creating posts. You need to pay attention to the images, content you are presenting, quality of the content, descriptions, first sentence, etc.
But before you try to create a post you must know all the post types. There are many different Instagram post types, now we are going to go through all of them.
Behind-The-Scenes Posts
These posts offer a glimpse into the part of your business that people don't normally see. They mustn't look staged — authenticity is key!
Example: Aeronaut Brewing Company has provided an inside look at how they take the grain out of the mash tun ready to be brewed…
Educational Posts
Educational posts offer snappy tips on how to do something. They are helpful and considered as evergreen content. (The best content type you can do…as these posts are always useful.)
I love to create this type of content, and you should consider it too.
Example: Dan Lok is educating his followers about the importance of getting out of their comfort zone every day…
Motivational Posts
A motivational post combines a simple visual with an overlaid quote or uplifting text. These posts encourage your audience and amplify your brand values. While effective, try to post these sparingly to avoid looking cheesy.
Example: Brian Tracy showing a really amazing motivational post…
User-Generated Content
Similar to employee reposts, user-generated content (UGC) is curated content from your fans and followers. Your tagged posts and posts with your brand hashtag are a great source for UGC.
This way, you will be able to super-effectively engage with your audience and create new content for your marketing with literally no work.
Example: WeWork conducts an annual #DogsOfWeWork campaign and compiles the best submissions together into a yearly calendar. Although WeWork doesn't repost every tagged image, their campaign helps create invaluable reach and engagement.
Giveaways
Another type of content a lot of people do is giveaways. It is effective because, with giveaways, you can easily increase engagement on your posts, grow your following, get new people to sign up to your email list, get followers to produce UGC, etc.
Here are some giveaway engagement ideas:
Before running a giveaway, you want to ask your followers to turn on notifications. It will help you grow faster and increase your engagement.
Example: Dina Anthansaiou running a giveaway for iPhone 12…
Open-Ended Questions
Be creative with asking questions because only then you can get really high engagement. Questions that are spread across millions of other profiles don't tend to do well.
Example: Starbucks asking you how are you staying cozy in the fall…
Prepare All Posts Up-Front
Have you experienced this? You have planned the day, everything fits in its place in the schedule…
…and suddenly something unexpected happens and your schedule is thrown off rails. You are either forced to rush the content or to put other things that you should do away.
This happened daily to me, and I was always mad when it happened. It is stressful and one day, I have started preparing content for the whole week.
And guess what? The whole week went by smoothly. Preparing content is also necessary for being able to stick with your strategy.
So, I recommend scheduling a week worth of content. Not more (unless something important is happening) because you won't be able to stay relevant to the changes that happen almost every day (whether it is from the side of your audience or from the side of Instagram.)
Here is the schedule on how to do it:
Never forget to do that as it can save you a lot of trouble, stress, and frustration.
But how to exactly create the content? Ok, now I'm going to break it down for you…
How To Create A Perfect Post
Create a consistent visual identity to follow in all of your posts. This will make you recognizable in the feeds of your followers and increase your engagement.
Fill out the following lines with your information after looking at what others in your industry are using and making sure you are different.
Fonts: ………………………………………………
One font for headlines and one for body text
Colors: …………………………………………..
Main and supportive
Textures: ………………………………………….
For backgrounds, for text, for graphic elements
Diagrams: ………………………………………..
With detail, without detail, bold or not, etc.
Pictures: …………………………………………..
The general theme of your images
Sizes Of The Posts
Sizes on social media are extremely important.
Making sure your posts are properly optimized can save you time and make you look professional. Nobody likes a cropped-out cover photo.
Resources For Creating Compelling Visuals For Your Marketing
Use freepik for amazing, free stock photos. (Free/Paid)
Use Photoshop for merging visuals. (Paid)
Use Canva for creating the posts. (Free/Paid)
How To Create Perfect Post Descriptions
Each post you make should have one goal. As I post any picture and write its caption, the first thing I do is decide if the hook is meant to inspire, educate, or entertain.
After I decide the goal of the post, I try to figure out the type of caption to post. The three most common types of captions and how to use them in business are:
The posts that do the best on Instagram have one thing in common: they invite you into the story and make you feel a part of the moment as if you're experiencing it beyond the screen. I often pay attention to the little things or thoughts that happen in my days and turn those into short Stories I tell through captions. I'm not talking "once upon a
time"–type stories but relatable life experiences that others can connect with.
Having an audience (whether it's 10 people or 1,000 people) gives you access to people that can help you create the perfect offer! When you're not sure what to post, ask a question. People love to feel heard and be able to share their opinions. At least once a week I love to ask a question. Questions can be directly related to your offer or just another way to connect with your audience. Plus, questions invite engagement onto your feed!
You can have a lot of fun with captions by sharing a shortlist! Some examples include three things people might not know about you, five facts about your business, three ways to use your products, or the seven best books you've ever read. Lists are a fun way to deliver a caption that is easy to read or interesting; they can also further connect
you to your followers in unexpected ways beyond the traditional brand
stories you tell!
(I got this from Traffic Secrets by Russell Brunson)
Choose The Call To Action
The last step in creating your post is your CTA. Every single post needs a CTA, and it can vary from being a very small ask to being a big CTA. Examples of small asks include:
"Double-tap," "Hit the 'like' button," "Post an emoji," or "Comment below."
Examples of bigger calls to action include:
"Share this post," "Tag 3 friends," "Click the link in my bio," or "Sign up for __."
Calls to action are important for a lot of reasons. Ultimately, they help you get people off Instagram and onto your lists, but, maybe even more importantly, they help the algorithms know if people like what you're posting.
If your audience comments, likes, and engages with what you post, the algorithms will assume you're creating content that people want and they'll reward you by giving you more exposure.
When people comment, you should be responding to their comments. This will get them more likely to comment in the future, and it gives other people extra motivation to
comment as well.
If you want to discover more about crafting a killer call to action, read this blog post.
Instagram Stories
Instagram Stories appear in a bar at the top of your feed — and all Instagram accounts will be able to share stories, from your best friends to your favorite popular accounts. When there's something new to see, their profile photo will have a colorful ring around it.
To view someone's story, you simply need to tap on their profile photo, and their story will appear full-screen, showing you all of the content they've posted in the last 24hrs, the content will play in chronological order from oldest to newest.
Once you're viewing a story, you can tap to go back and forward or swipe to jump to another person's story. Unlike regular posts, there are no likes or public comments.
So how do you build a Story? And what does this mean for your Instagram marketing strategy? Don't worry. I've got you covered.
Show What Makes Your Brand Fun And Relatable
All marketers know that social media engagement is important. It's one of the best ways to develop trust from prospects.
And the more they trust you, the more likely they are to become loyal customers.
While all social media platforms are great avenues for driving audience engagement and ultimately sales, Instagram is on a whole different level.
Of the 700 million users on Instagram, 500 million users are active daily.
Instagram also excels in terms of engagement. 68% of users regularly engage with brands on Instagram while only 32% of users regularly engage with brands on Facebook.
Why? Because features like Instagram Stories make it easy for brands to show themselves in a fun and interesting light. It's easier than ever to humanize a brand.
From live yoga practices to cooking healthy meals, the brand gives great insight into how employees are working toward the same goals as their followers.
Just recently, lululemon took viewers on one employee's daily run through Austin, Texas.
You experience the route she took, the music she was listening to, and the trials she had along the way. Instagram Stories like this make it very easy to relate to a brand.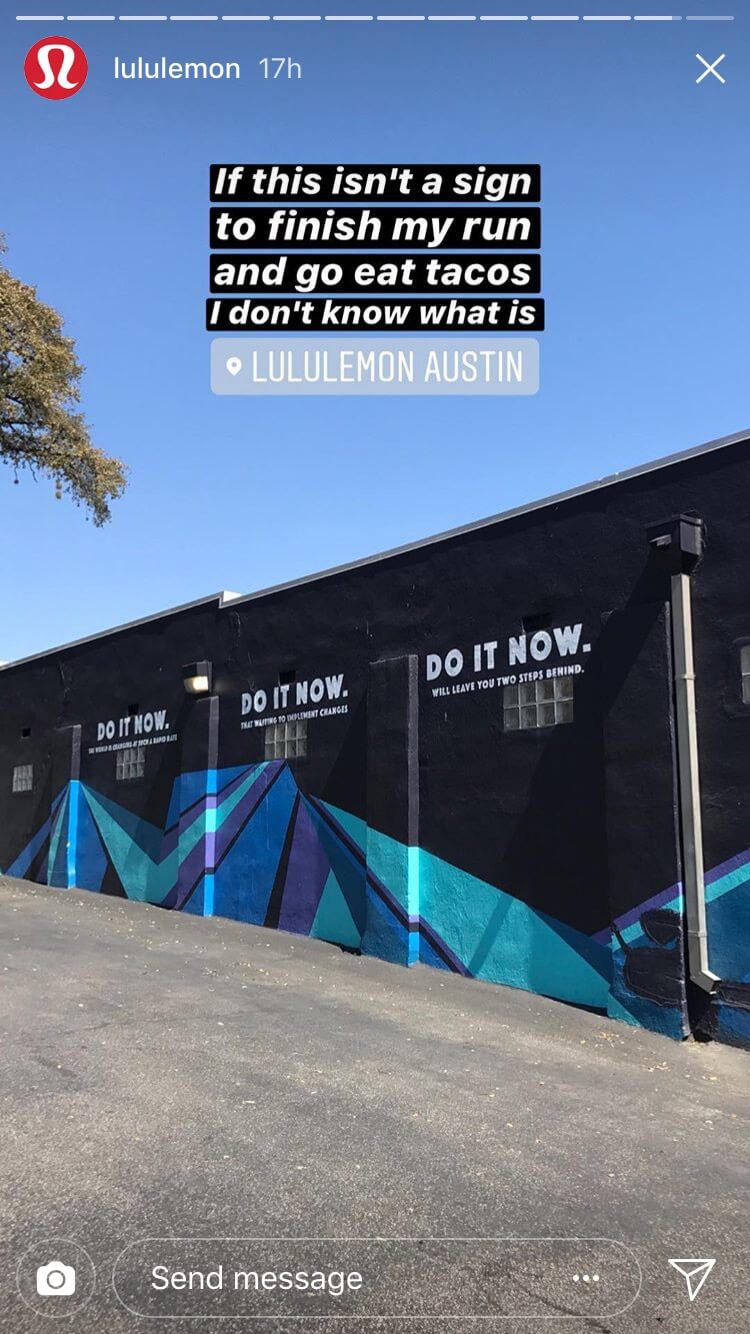 (Source: Neilpatel.com)
Take Advantage Of Instagram Stories Features To Interact With Your Audience
Instagram offers a variety of ways to interact with your followers in Instagram stories. These are stickers, polls, ratings, multiple-choice quiz stickers, etc.
You can use all these ways to easily interact with your audience and also get to know your audience better by conducting simple surveys.
As a marketer, you always want feedback from your prospects and customers.
Polls on Instagram Stories provide a way for you to get that feedback from fans while making your audience feel like your brand is empowering them.
You can utilize polls to ask fans anything!
Ask about their opinions on new products, how often they'd like to receive brand emails, their favorite kinds of sales, what kind of content they'd like to see from your brand on social media, and so on…
Increase Your Lead Generation And Sales By Adding Links
We are still digital marketers and if our efforts aren't generating leads and sales, they are not worth it at all. Results rule. PERIOD.
All of these visual storytelling and humanizing techniques impact your business…
Well, storytelling boosts conversions by 30% when you use it to answer customer questions.
As many as 78% of enterprise marketers believe that their team is very or extremely effective when it comes to storytelling.
With the "Swipe Up" link feature on Stories, Instagram has revolutionized the way brands can convert users through social media.
By using the "Swipe Up" link, you can redirect your story viewers to your website or any other desired landing page.
You can easily double your traffic with this feature, but before asking them to swipe up, I recommend arousing curiosity.
(Claim this free marketing bundle – $327.78 Value – and monetize all of your Instagram followers.)
Share Posts To Reach More People
Instagram stories can be also useful for sharing the posts you have just created. That way you will reach more people and you'll be able to convert them into something.
Well, now you have created your raving content. But that is only half of the way to success when doing marketing on Instagram.
Yes, content is king. But engagement is queen. You need to make your audience engage with your content…
How To Dominate Engagement On Instagram
Whilst content is king, engagement is queen. Especially in the beginning. This will be your primary source of followers. You scratch my back and I scratch yours.
Give attention and you shall receive attention. This is the reciprocity effect in action.
There are different types of audiences you can use reciprocity on…
Cold – people you have no idea who they are. They never followed you and you never followed them. These are considered as a cold audience.
Warm – people that are part of your community that has engaged with you in the past. Because they have engaged with you, they are considered warm.
Hot – the truest supporters of your craft. The people who always comment, always share posts, always have your back with honest feedback, making them too hot to pass on.
But an engagement takes a lot of time. You have to grind it out. However, you have no choice. Without engagement your content is worthless.
So, how do you exactly create the engagement?
Step-By-Step Guide To Dominating Engagement
Now when you know the type of audience, it is time to dive into how to exactly create that engagement.
There are many ways to do that but I'm going to show you 7 ways how to dominate engagement on Instagram.
1. Use CTA's In Your Descriptions (Or Directly In The Images)
As my parents always said, and I believe your parents said this too, "If you don't ask, you don't get."
I talked about this earlier, but now we will go more into depth. On Instagram there are two major types of call to action that you can use:
First, there are small CTAs.
These CTAs are asking for small actions like "like this post" or "comment below". The actions you are asking them to take are easy and can be done in a matter of seconds.
Most of your followers will react to these CTAs without any persuasion techniques. But the next type of CTAs is a little bit different…
Second, there are BIG CTAs.
In these CTAs you are asking them to do bigger things. Here you are asking them to share the post, click the link in the bio, swipe up, join your email list, etc.
When you want to make your audience take a bigger action, you have to give them a reason on why they should do so and what are they going to gain by that.
For example, if I would be asking my followers to read the latest marketing blog post, I would tell them that they will be able to double their revenue or something like that.
That way, they would be willing to check it out and take the action.
Keep The Call To Action Clear And Concise
The call to action needs to be clear and concise to make most people act. Don't try to be complex and write a huge chunk of text explaining what will happen after they will click on the button, etc.
Just tell them what to do and remind them concisely why they should do it.
For example, "Click on the button below and learn how to save $20,000 when paying taxes every year!"
No literary work, just a clear and concise call to action that will make them act.
But that is not everything by a long shot!
Inject Urgency Into Your CTA
Urgency is the most important thing I'm mentioning here. You see, people love to procrastinate. We put things on tomorrow.
It is human nature, and as a marketer, you need to fight with it. Here is a list of urgency-provoking words that you can use in your CTAs…
Ends tommorow!
Limited time only
Urgent
Deadline
Now
Closing soon
Today
Today only
Last chance
Hurry
Immediately
Before
Ends
2. Comment On Posts On Relevant Hashtags
This is the type of outreach you do when you want the cold audience to engage with you, follow you, or even buy from you.
Just go to relevant hashtag (for me it would be something like #copywriting, #digitalmarketing, etc.)
Then you just start commenting on the posts. But the comments should be always relevant and they should never be copy-pasted.
One relevant comment is more valuable than 10 copy-pasted ones. And even more effective is when the comment is written in the "sandwich method".
The sandwich method means compliment – feedback – compliment. These are the most valuable comments that always trigger a reaction and some sort of action.
For example, "I really like this post. You helped me with_______. I always struggled with______, but now I can handle it with ease. You are amazing, keep it up."
When I write a comment like this, I always trigger some action.
But also keep in mind that Instagram has its limits. You can only comment on 400-500 posts per day and on just 60 posts per hour.
Do not overcommit because you will end up banned. Always stay within these limits.
3. Regularly Test & Analyze New Content Types
Some of the best content plans on Instagram come from experimentation.
Testing out new forms of content can feel daunting on Instagram, especially if you feel like you're onto a good thing and seeing good engagement on your current content strategy.
But trust me: trial, error, and content experiments are key to being ahead of the curve and having a stronger strategy.
Not sure where to start? Here are a couple of ideas you can try out this month:
#1: Test new content types. Memes, quotes, user-generated content, mini-infographics, or even a selfie-style video could be great on your grid or stories.
#2: Experiment with video types like Instagram Stories, Instagram Reels, and IGTV. Some brands work well with long-form content on IGTV, while others still favor the short and snappy clips. Try something outside of your norm.
#3: Test out different Instagram Stories styles and see if they improve your engagement. For example, see if a chatty BTS resonates with your audience, or if they prefer weekly round-ups.
As you test different content types, don't forget to regularly check your analytics!
4. Create Shareable Content
The ability for users to share feed posts to their Instagram Stories or DMs is a handy feature that will help you reach even more people.
The key is making content you know your audience will want to repost.
Similar to creating savable content, shareable content needs to be highly related to what your audience likes and needs. Think about infographics, data that could shock or spark intrigue, fun memes, or relatable quotes.
5. Open Up About Your Brand and Business
The power of authenticity on Instagram is huge — and it's set to become even stronger in 2021!
We're seeing tons of brands and businesses getting on board and showing a more honest, real, and vulnerable side to their brand and business.
A high level of authenticity can go a long way in building a stronger connection to your audience, which in turn encourages more engagement.
When you can showcase the good with the bad, the struggles along with the wins, your brand will be more relatable to your audience.
For example, Dan Lok is trying to show why he meditates…
6. Tag Other Instagram Users
Think your Instagram post will be of interest to other brands or to Instagram influencers? Want to get the attention of someone you admire? Hope to thank a celebrity or influencer who is working with your brand? Tag them in your caption.
This shows you value that person, but it also increases the chance of that user's following of seeing your post. Because they can easily share it with their Story. And that increases your Instagram engagement!
7. Engage With Your Followers
It's called social media for a reason. Be social!
Instagram is a platform for you to talk to your followers, for your followers to talk to you, and for you to engage with other users and brands. Respond to your followers' direct messages. Reply to their questions or comments underneath your posts.
When you engage in the conversation on Instagram, this helps you understand your followers, how they connect with your brand, and what they're saying about your brand.
So, now you know how to increase engagement. But to make people engage with you…they must follow you first. Now, let's take a look at how to grow your Instagram following…
How To Grow Your Instagram Following
We have gone through two of these pillars. The thing that you need to be consistent with is well known, but in this section, we are going to discuss it a little bit.
Growing your audience is extremely important. I talked about a few ways that are extremely effective for growing your following before (like commenting on hashtags, optimizing profile for CVR, etc.)
Now I am going to talk about different strategies for gaining followers. But all of these are highly effective and you should keep track of them.
So here we go…
Keep A Consistent Content Calendar
The worst thing you can do when trying to get followers on Instagram is to post content at random, haphazard times. If you're lucky enough to get users following you in the beginning, you don't want to make them forget they followed you in the first place.
To combat this, keep to a regular posting schedule. Typically, brands shouldn't post more than a few times a day to avoid spam, but whatever your cadence, keep it consistent.
Approximately 200 million Instagram users log on daily, so to cast your net even wider, try publishing a few times throughout the entire day.
Sticking to a schedule will help you build a consistent experience for your followers and keep them in the know of your brand.
Collaborate With Awesome Brands
The power of a collaboration or a co-marketing campaign for your business is huge — quickly becoming one of the most popular ways to grow your following.
Teaming up with like-minded businesses and brands will introduce your profile to a new and engaged audience.
So when an Instagram user discovers your profile through a co-marketing effort, they're likely to hit that follow button if they have similar interests or are the right demographic for your brand.
Avoid Fake Instagram Followers
There's a huge difference between an Instagram account having fake and legitimate followers. It might seem tempting to simply purchase Instagram followers, but the backlash outweighs the perks of organic follower growth.
Fake Instagram followers tend to:
Deceive new followers: If users come to an inactive Instagram feed with tens of thousands of followers, it will lower the account's credibility. Don't trick people into following you. Build trust and long-lasting relationships for better engagement.
Have no ROI: It might seem easier to buy followers, but your acquired bot or unmanned new followers won't be purchasing anything. People follow brands on Instagram for a reason–they like what you're posting or your company in general. These are actual spenders and bring monetary value to your business.
Create little-to-no buzz: If you have 10,000 fake followers, how many are going to comment, like and share your content? More than likely, these bot or fake accounts will be cleaned up by Instagram, deleted and make your posts seem like engagement graveyards.
Real people can share, like, comment, and engage with your Instagram posts. Additionally, these users enjoy it when there's someone on the other side responding.
Run Instagram Ads
Sometimes the most effective way is simply to pay to play.
That's where paid promotions come in.
As you know, Facebook purchased Instagram in 2012.
This is significant because running ads on Instagram is the same as running Facebook ads. They're controlled through the same ad manager.
If you've run Facebook ads in the past, you're likely familiar with this method.
In any event, I'll walk you through the process from start to finish.
The step-by-step play for running Instagram ads:
Step #1 – Connect your Instagram account to your Facebook page.
If you've already done this once, you don't have to do it every single time you run an ad. But if you haven't already linked the two accounts, go to "Settings" on your Facebook page and click on "Instagram Ads."
After you click on "Add an account," you'll be prompted to fill in your Instagram username and password.
You'll then be asked to select which Facebook ad account you'd like to use for your Instagram campaign. If you have more than one ad account set up, select the appropriate one.
Step #2 – Go to the Power Editor or Adverts Manager to create your Instagram campaign
Now that your accounts are connected, you can run your Instagram ads from your Facebook account.
You can either click "Create Campaign" in the Ad Manager or go to the Power Editor to create your ad.
Step #3 – Select the objective for your campaign.
You have three different categories to choose from:
Awareness – Increase your brand awareness, local awareness, and reach.
Consideration – For driving traffic, increasing engagement, getting more app installs, increasing video views, and lead generation.
Conversion – For conversions, product sales, and store visits.
Simply click on the category that you're interested in. You can only have one campaign objective.
After you click on your objective, name your campaign and click "Continue."
Step #4 – Create your advert set and define your ad audience.
Your audience can be defined by location, age, gender, language, and other detailed demographics. If you have saved audiences, you don't have to create a new one.
Next, select your ad placement, budget, and duration of the ad set.
Once, you've decided how much you're going to spend and how long your ad will run for, it's time to select the format of your ad.
Finally, select your images and write your caption. You can preview the ad to make sure that everything looks good. Click "place order," and that's all there is to it.
(Claim this free marketing bundle – $327.78 Value – and monetize all of your Instagram followers.)
Step #5 – Set up a retargeting campaign
Retargeting ads are set up using more or less the same process as normal ads. Only this time, you're targeting people who've already engaged with your business.
Maybe they visited your site, your opt-in page, or abandoned their cart before making the final purchase.
How do you know who those people are?
The Facebook pixel. This is a tool that allows you to track the actions that people take on your website as well as to measure the effectiveness of your ads.
Ideally, you should install the pixel on your site even if you have no immediate intention of running an ad. This way, it can track as much data as possible, so your campaign will be more effective.
To get the pixel on your site, you can either install it manually or use a WordPress plugin.
Manual installation of the Facebook pixel:
Go to the Adverts Manager and find "Pixels" under the area labeled "Assets."
If you've ever run Facebook Ads, chances are you've already created a pixel. If not, you'll be asked to create one.
Select a name for your Pixel and click "Create Pixel".
You will get a pixel code that you can copy and paste into your website header.
Alternatively, you can simply install a WordPress plugin called PixelYourSite. All you have to do after that is enter your Pixel ID in the settings of the plugin. Your ID can be found in the top right-hand corner of your Ads Manager dashboard.
Once your pixel has been installed, it will begin collecting data immediately. Running a retargeting campaign is simply a matter of creating a custom audience to include anyone who has visited your domain or specific pages.
The remaining steps are the same as what we walked through earlier for setting normal Instagram Ads.
(This whole Instagram Ads explanation is from Neil Patel's blog post. I don't have so much experience with IG ads, so I used him as a resource.)
Use Instagram Reels
The Instagram reel is a new feature launched in 2020 and it has a huge potential that marketers should leverage.
It is a form of short video with a maximum of 30 seconds.
Chances are you've seen reels on Instagram already, even if you didn't realize it. Reels can be uploaded to Stories or the feed in addition to a Reels gallery on your profile, and they can even appear on the Explore page. They're pretty much everywhere!
If someone you follow uploaded a reel, you'll see that video in your home feed as you scroll through.
Just recently, Instagram has also begun to highly promote reels by replacing the post button with them in the new update.
So, jump on the reel way and get your Instagram marketing to another level. Here is how…
Businesses Uses for Instagram Reels
Now that you know what Instagram Reels is, you may be wondering how to use this feature for your brand or business.
It's worth pointing out that not all reels (or TikTok videos for that matter) are just dancing or music. In fact, because business accounts don't have the music option, you're most likely going to have to find other ways to use these videos.
If you do tutorials or step-by-step videos for products or tips in your industry, you can definitely create similar-style videos for Reels. You could do some quick behind-the-scenes or meet-the-staff videos to showcase what your company is doing.
It's worth noting that most people watching reels aren't going to read a caption, especially a long one. If you have a call to action or key point to stress in your post, make sure it's in the audio and any text overlay on the video so the viewer does see and hear it.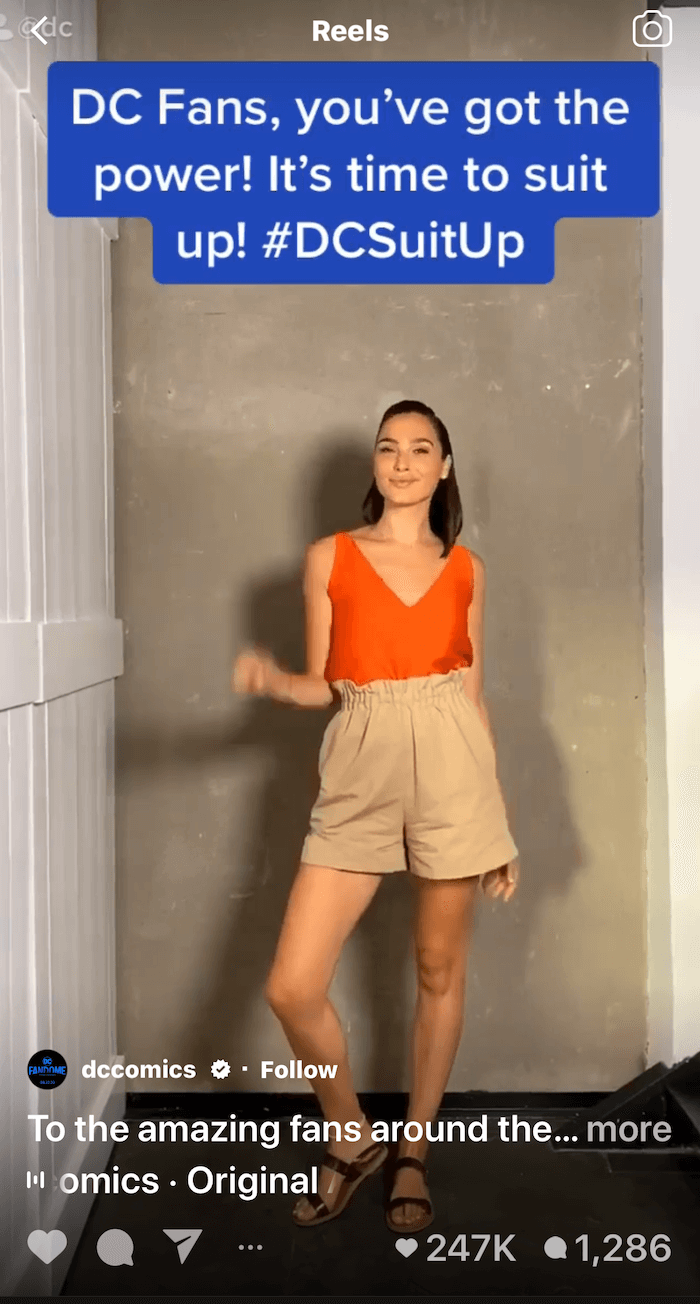 Another huge benefit is that you can share your Instagram reel directly to your story. That can help you get two things done with just one shot.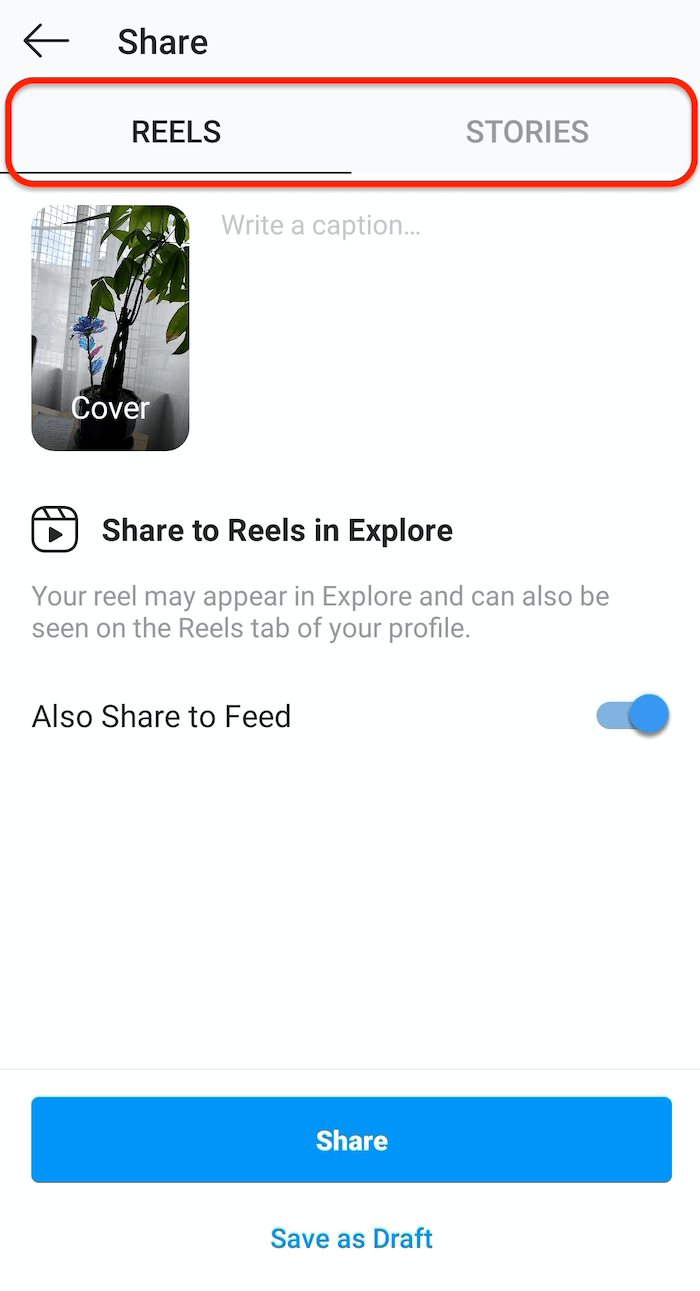 Important: If you want to share a reel to your story, you have to share it with your story first from this Share screen. Once you share it with any other thing, you will no longer be able to share it with your story.
So, go on and leverage this feature.
The Secret To Monetizing Every Instagram Follower
The real secret for making money on Instagram isn't on Instagram itself, but in the follow-up.
The secret is in converting all the traffic through lead-squeeze pages into the traffic that you own, into your email list. Then through the power of email marketing, you will start converting the traffic that you own into customers.
---