There is nothing worse than preparing all of the posts in your content calendar knowing that every day, you're going to be interrupted by an alarm clock or a notification to share it manually.
It's literally one of the biggest frustrations on planet Earth of everybody who is doing social media marketing in some way.
And that's why today I have prepared for you a list of the very best social media scheduling tools that you can use for your business.
In fact, these are the best social media scheduling tools on planet Earth.
So, are you ready to begin? If so, let's dive in.
Sprout Social
Sprout Social is way more than just a social media scheduling tool. With it you can handle social media listening, engage your audience, collect data you never dreamt of before, do social media advocacy, and so many different things…
…for ALL popular social media platforms. Isn't that absolutely amazing?
But back to scheduling. Sprout's intuitive publishing and scheduling tools make quick work of delivering social content, so your team can focus on strengthening strategy and effectively connecting with your customers.
You'll know when is the best time to post based on the performance of your content (which is the ONLY real way to find out what the best time is.)
You'll be able to build an amazing content calendar, publish to multiple platforms, curate content, get access to content suggestions, and so much more!
There are so many features I can't list them all.
With this amazing tool, you're never going to struggle with content creation and posting manually again.
Click here to try it for FREE and get a special bonus from me now.
And now let's check another social media scheduling tool…
Hootsuite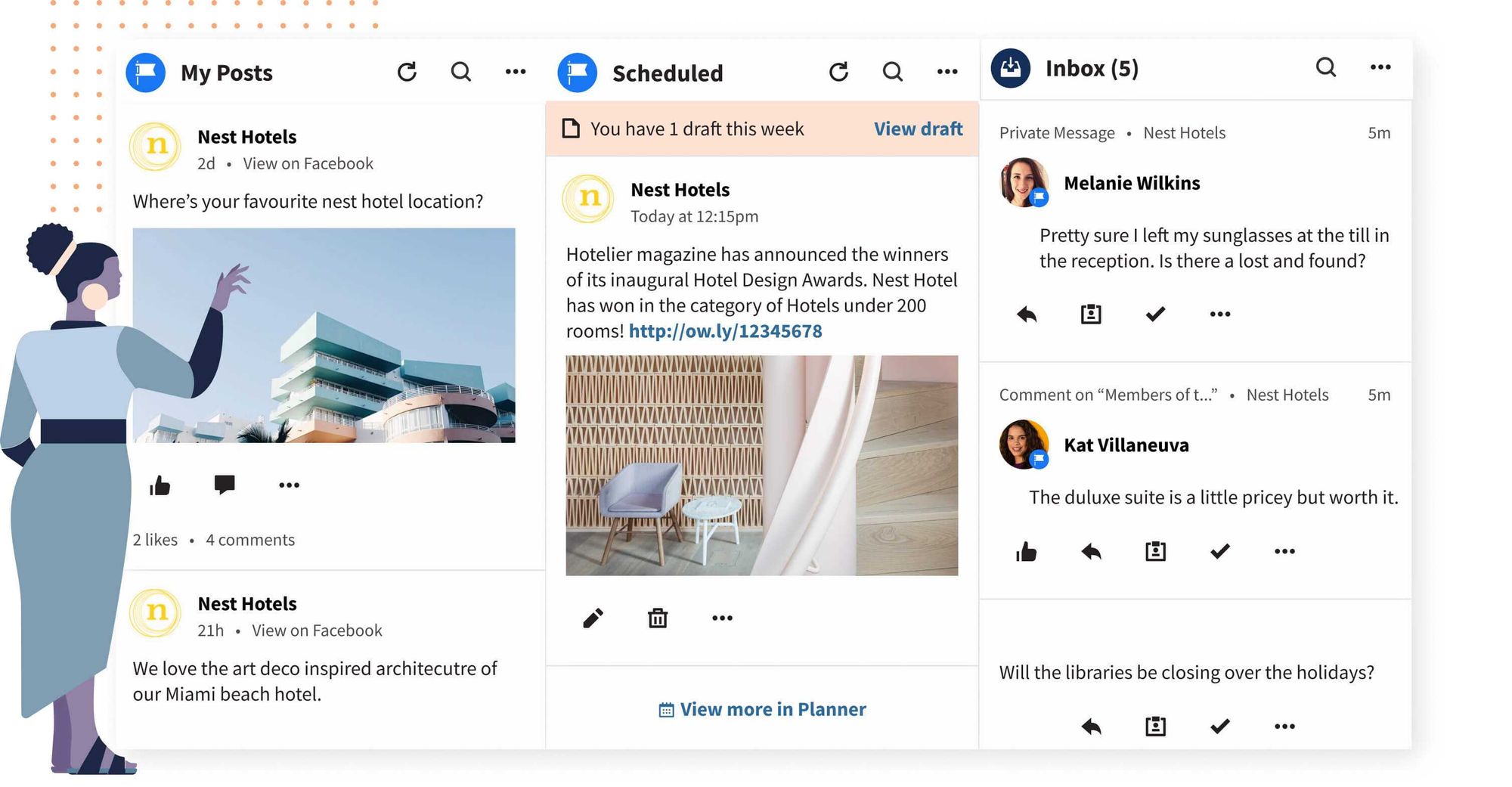 Hootsuite is another incredible social media scheduling tool for your business with various features that you can use and get results.
With it, you can analyze a lot of data, schedule new content, and get great results. However, it is a bit more expensive.
As with Sprout Social, you can use it for all popular social media platforms, easily plan your content calendar and schedule new content.
And it works more than well! However, comparing that price tag, Sprout Social personally feels like a WAY better option. You get better features for less.
However, there is no question that Hootsuite is one of the best social media scheduling tools in the world.
Social Pilot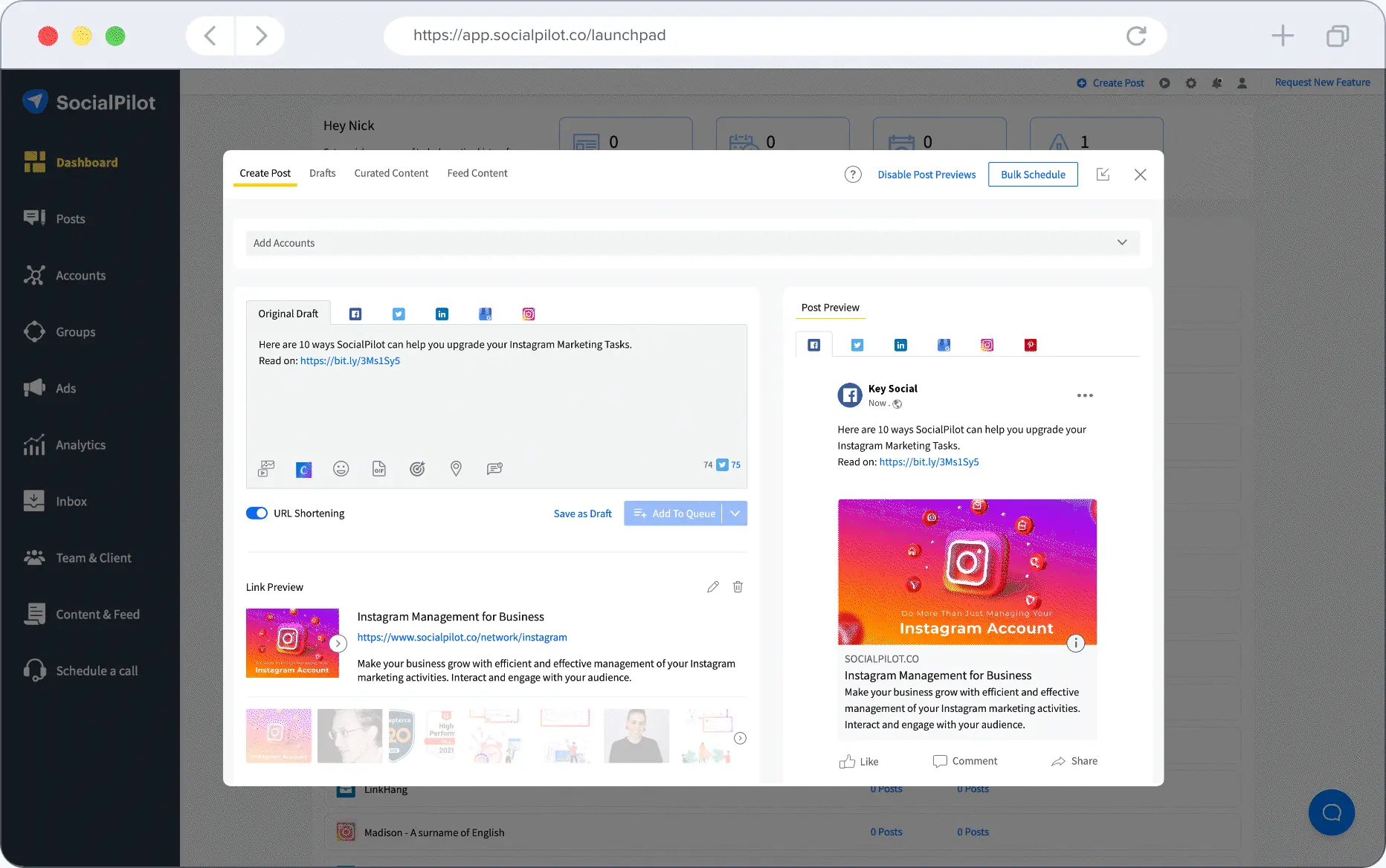 Social Pilot is another amazing social media scheduling tool used by a lot of businesses. Basically, it is going to allow you to schedule new content to all major social media platforms, and it is one of the cheapest ones here.
But the reality is, the only way you're going to access the features you need is by getting the second most expensive plan.
Otherwise, all you are going to be able to do is schedule a post and that's it.
I highly recommend that you try it out, but it's not a great fit for everybody.
Buffer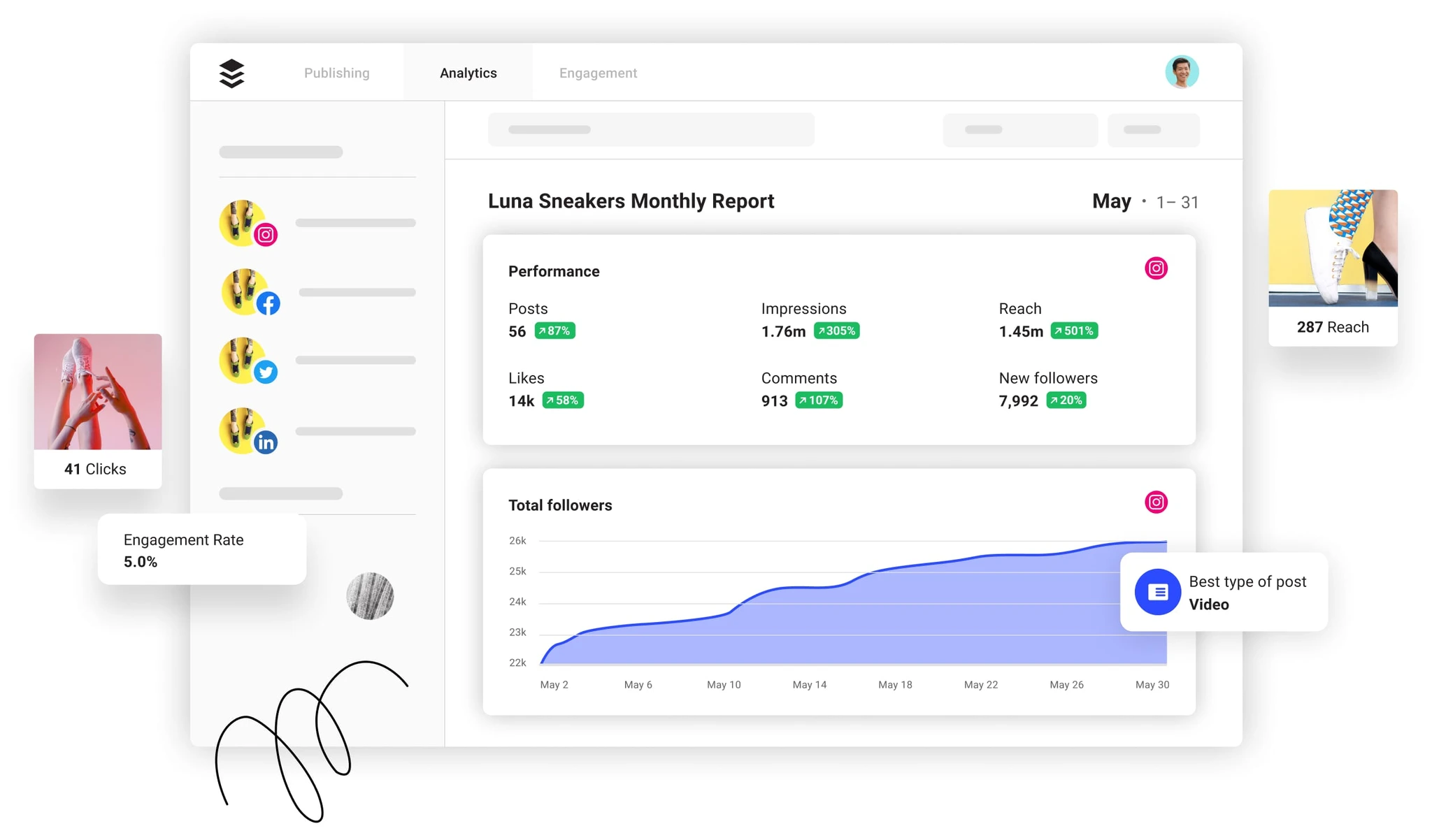 Buffer is another well-known social media scheduling tool that is going to let you publish content to multiple platforms.
It's easy to use, and it is actually cheaper than any of the tools that I have mentioned up to this point. However, of course, lower price means less features that you need to max out your social media marketing.
But it works more than well.
Definitely try it out and if it is the right tool for you, then keep using it.
Crowdfire
Crowdfire stands out from most social media scheduling tools in that it lets you connect your blogs, YouTube channel, and online shops and will create social media posts for every update you have on your sites.
And that is really incredible. You can schedule content to all major social media platforms, curate content, and on and on.
It's a one-of-a-kind solution that you should try.
Also, it is pretty cheap with plans starting from $9.99 but there is also a free plan for those who want to try it for free.
Click here to try Crowdfire right away.
Later
What makes Later stand out as a social media scheduling tool is how amazingly it works for Instagram. Of course, if you're cheap you can schedule Instagram posts using Meta Business Suite or Facebook Creator Studio for free.
However, this is an amazing tool that will provide you with more features than any of those free tools will.
You will get access to a 'link in bio' tool so that you can make an awesome page that will redirect your followers where you need, you'll get access to detailed analytics, help you with user-generated content and way more.
Definitely give it a shot.
Social Bee
One of SocialBee's most-loved features is the possibility to recycle evergreen content while keeping it fresh by using post variations.
You can use SocialBee to post consistently while having an overall balanced mix of content in each category. More than that, the quality of support is another valued asset of SocialBee.
That's why it is such a great social media scheduling tool, and I highly recommend trying it out for yourself.
Click here to try Social Bee right away.
---