If you feel like you don't quite "get" Instagram marketing, you're not alone.
On the surface, it might seem like little more than a place for snapshots and selfies.
The reality, though? Instagram is an absolute goldmine for businesses of all shapes and sizes.
From social selling to community-building and beyond, there's a reason why Instagram is booming right now among businesses and consumers alike.
That said, Instagram's "simplicity" can be deceiving. Many brands struggle to grow or adopt Instagram marketing as part of their social strategy and we totally understand why.
Listen: you can't afford to "wing it" on the 'gram. You need a clear-cut, actionable Instagram marketing strategy if you want to grow a presence and attract customers.
And that's why I put together this post. Below I've broken down an Instagram marketing strategy guide to help you get started on the platform and understand the best practices for growth.
1. Defining Your Instagram Marketing And Purpose On The Platform
It might seem like a no-brainer, but you need to be able to clearly define why you are on Instagram in the first place.
What are your goals? Why did you come here?
Maybe you want to make a lot of sales, or you are doing affiliate marketing. You just NEED to know why you are here.
Everything else will be built based on this.
You will create content based on this. You will decide whether you will create carousels often or if you will just post some quotes.
You will engage with certain people based on that and you will also try to attract the audience that fits your goals.
It is absolutely necessary to answer this question.
If you don't know why you are doing this, if you don't know your goals, your odds of achieving them will be close to zero.
What I recommend is to take a sheet of paper and think for 10 minutes about why you are on Instagram. Then, write it down and keep that goal in front of your eyes.
To make the maximum out of your IG marketing, you just need to step in with the right foot.
And this is the way you do it.
So, do you have your goal set? Great, let's move on to the next step…
2. Optimizing Your Instagram Profile For Engagement
Here's some good news: in terms of setting up your profile, Instagram is relatively straightforward.
However, there are a few small details to watch out for as you put together your profile.
Before you worry about creating content for Instagram, make sure you've ticked the following boxes. This rings true for new profiles and brands looking to fine-tune their Instagram marketing.
Convert To A Business Profile
By converting your personal profile to a business profile you will get access to a lot of features that can extremely help you with your Instagram marketing.
But the most important feature that you are going to access is insights. It doesn't matter where you are, you're improving based on the data.
In insights, you will get access to important demographics that will help you track your growth.
It is incredibly helpful. So, how do you switch your account to a business account?
First, you will go to the settings:
Then you will go to the account settings:
And then just click on the switch to the business account button:
Once you'll do that, everything is going to change. So, take the time to do it. (If you are worried, switching to a business account is absolutely FREE.)
Ok, have you switched your account? Now you need to decide on your brand creatives…
Decide On Your Brand Creatives
Although they're easy to overlook, your brand creatives are integral to your Instagram marketing strategy.
Specifically, your hashtags and bio.
The process of creating a hashtag doesn't have to be daunting. For example, most hashtags are either a brand name or slight variations on a brand name.
#Topshop #DanLok #NeilPatel
See what we're saying?
The purpose of having a hashtag is to encourage followers to tag your brand and enable you to do the same. Hashtags serve as a sort of call-to-action to encourage customer photos and stories.
Another great thing is to have your own motto that the audience can relate to. A great example is "Just do it!" from Nike…
People can relate to that, and it is an amazing way to start a massive movement. Your slogan can look like "For those who think differently…"
That way, when people follow you they will think, "Oh yeah, I think differently."
And so on. Here is a fantastic example from Adidas:
When people read that they think, "I will sport, buy Adidas products so that I can change lives."
Do you see how it works?
Craft A Compelling Instagram Bio
Despite being only 160 characters, your bio is one of the most powerful elements of your profile. It is the difference between a follower or just another dude finding your profile and leaving it immediately.
Here you make the first impression and if it is bad, you are going to fail.
Oh, and it's the only place where you can funnel Instagram traffic to your promotions or website. That is an extremely important thing to realize.
To make it clear, make sure that you tell them what you do, give them a promise, and include a call to action for the bio link. That is going to take your Instagram marketing to another level.
Here is an example of a perfect bio, I believe you will see all of the three elements here:
Choose A "Gram-Worthy" Profile Picture
Your Instagram profile picture is confined to a measly 110×110 pixels.
Translation? Sleek, minimalist, and high-res are the way to go.
For example, Casper includes only the first letter of their stylized brand font for a bold profile pic.
Meanwhile, BarkBox manages to include their entire name with clean, legible text.
Don't try to cram too much into your profile picture. If you need help there are tons of tools online that can help you. All you have to do is to search for them.
3. Creating Content For Instagram
Now let's get into the nitty-gritty of your Instagram marketing strategy.
That is, creating content.
Yet again the concept of creative freedom rears its head. With so many possibilities in terms of what you can post, where do you even start?
Here are some tips that you can use for creating some raving content…
Eye-Popping Imagery
Using images that grab attention is absolutely essential. With so many posts flowing through your audience's feed every day you just have to stand out. You need to grab their attention.
Of course, not all of us have the privilege of working in an industry that allows us to take exotic photos. Thankfully, most modern smartphones have features baked into them to take compelling photos of just about anything.
People-Centric Photos
Alright, I want to make it clear. Social media is…social. Maybe it sounds totally dumb, but the problem is that most brands don't understand that, and the only thing they are doing is promoting their products or services.
Don't do that.
You want to make it all personal. You want to be social.
That is why people-centric photos work so well. They make the whole content creation part more personal, and that is why they grab a lot of attention.
For example, user-generated content and customer photos are staples of Instagram. Sharing such snapshots allows you to show off your satisfied customers and put your products in a real-world setting.
Instagram Stories
Instagram Stories appear in a bar at the top of your feed — and all Instagram accounts will be able to share stories, from your best friends to your favorite popular accounts. When there's something new to see, their profile photo will have a colorful ring around it.
To view someone's story, you simply need to tap on their profile photo, and their story will appear full-screen, showing you all of the content they've posted in the last 24hrs, the content will play in chronological order from oldest to newest.
Once you're viewing a story, you can tap to go back and forward or swipe to jump to another person's story. Unlike regular posts, there are no likes or public comments.
The best thing to share in stories is to show what makes you fun and relatable. Again, the more personal it is, the better.
Here is an awesome example: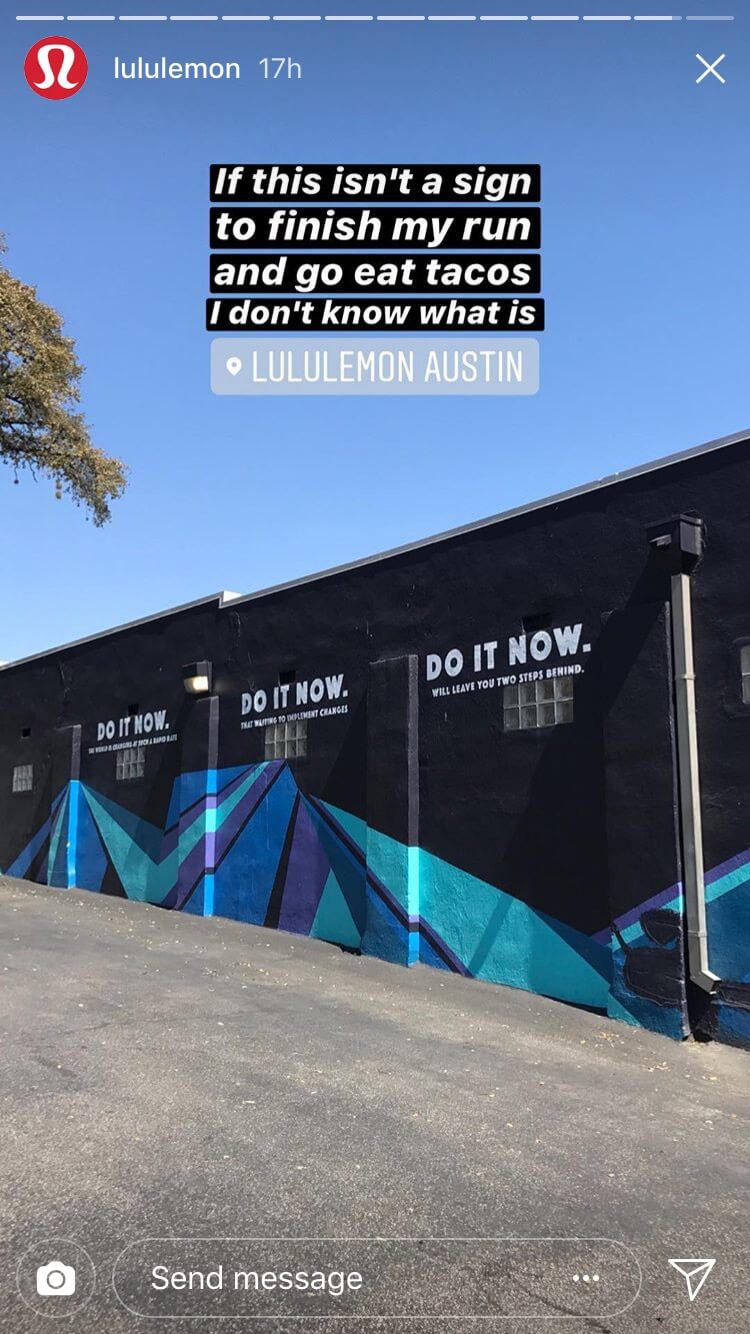 Do you see the brand's fun personality in it?
---